is Jamaica's first 
wellness centre
serving children, adolescents and their families.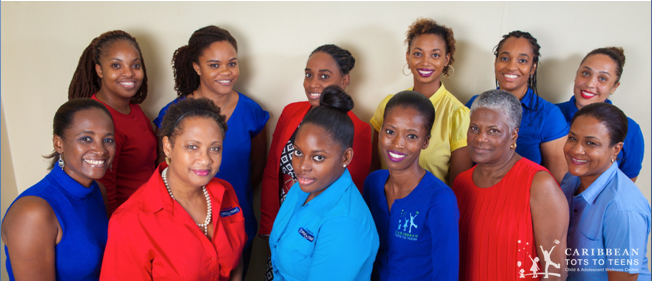 Our mission is to optimise youth development and family life. Caribbean Tots to Teens was launched in 2008 by Dr. Carolyn Jackson out of her recognition of the need for a family-oriented service to provide competent, compassionate care in the fields allied to medicine including mental health, psychology and nutrition.
Over the years, the team has grown from two to an integrated interventional group of more than ten allied healthcare professional associates. Today, Caribbean Tots to Teens provides effective, customized, therapeutic solutions to families, churches, schools, parent-teacher groups, medical practitioners throughout Jamaica and beyond.
We are open to children from newborn to adolescents and young adults of age 21 years.
The administrative team includes:
Clinical Director:

Dr Carolyn Pinnock Jackson

               doctorj@caribtots2teens.com
Clinical Care Manager:

Ms Chenell Griffiths    

 chenell.griffiths@caribtots2teens.com
Receptionist:

Ms Tina Soman                              

                      info@caribtots2teens.com
Receptionist:

Ms. Candine Anderson                      

                info@caribtots2teens.com

Bookkeeper/Admin Assistant: 

Ms. Tanisha Osbourne  

   admin@caribtots2teens.com
Our Associates include:
Art Therapist:

Ms Lesli-Ann Belnavis                                                                           

Clinical Social Worker/ Paediatric Psychotherapist:

Mrs. Marie Reynolds

Counselling Psychologist:

 Mr. Craig McNally 

Developmental Psychologist:

Ms. Chalanie Stiebel                                                              
Clinical Psychologists:

Ms. Justine East 

and

Ms. Arnella Myers

School Psychologist:

Mrs. Kellie-Ann Brown-Campbell

Rehabilitation & Mental Health Counsellor:

Ms. Jhanille Brooks
Dietician/Nutritionists:

Mrs Violet Griffith (Lactation Consultant) 

and

Mrs. Kerry Weatherly
You may learn more about our associates qualifications and experience on The Team page.
Some of the services offered at our centre include:
Counselling and Psychotherapy Services (Individual and Family) involving talk, art and play therapeutic techniques. These forms of therapy are used by our professionals based of the specific needs of the child and their family. In addition to helping children overcome challenges with conduct, learning, stress/anxiety, trauma and mood, our counselling methods have seen success in helping children with difficult transitions (coping with shifts from primary/preparatory to high school or from high school to college; family disruptions and more!)
Psychological Assessments are also offered based on the specific needs of the child and may include psycho-educational assessments, personality/emotional functioning assessments or a combination of both when needed. Neuropsychological Assessments are also available. Come in for a consultation to find out what may be best for your child.
Workshops and Seminars for Parent-Teacher Associations at primary and secondary levels including exam preparations (EXAM CALM), bullying, internet use and safety, healthy meal choices to name a few. We cater to your needs.
Nutritional and Dietetic Counselling: including meal planning for families, meal planning for children with dietary restrictions and weight loss management.
Lactation Consultations: for all breast feeding challenges including establishing let-down, twin births, storing EBM (expressed breast milk) weaning, low milk supply…