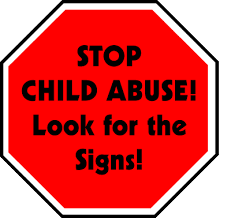 In recent times there has been increasing reports in the news regarding the amount of abuse occurring against our nation's children.  Abuse does not occur on a singular scale. It consists of three different forms – physical, sexual, and emotional (neglect). Everyone who endures abuse reacts to the traumatic experience differently. As it relates to abuse in children, it may be hard for persons to recognize the signs.
It may be difficult for a child to manage their emotions and behaviour after enduring a traumatic experience. Children who endure abuse may experience shame, guilt or confusion. They may experience fear which may cause them to be scared to tell anyone about the abuse, especially if the abuser is a relative or family friend. Based on their apprehension to identify or discuss their abuser, it is helpful to look out for the following warning signs (Mayo Foundation for Medical Education and Research, 2015):
Changes in behaviour — such as anger, aggression, hostility or hyperactivity
Withdrawal from friends or typical activities
Rebellious or defiant behaviour
A sudden loss of self-confidence or a display of depression, anxiety or unusual fears
Changes in school performance
Frequent absences from school
Reluctance to leave school activities, as if he or she doesn't want to go home
An apparent lack of supervision
Attempts at running away
Attempts at suicide
Depending on the type of abuse, the signs and symptoms may vary. These however are just warnings and may not solely indicate that the child is being abused. They could be indicators for other conditions. Professional support and assessments may need to be done as a follow up to ascertain and address what exactly is happening with the child.
Let's explore the three major forms of abuse and how they may present in a child's behaviour.
Emotional Abuse Signs
Headaches or stomach aches with no medical cause
Social withdrawal or a loss of interest or enthusiasm
Loss of self-confidence or self-esteem
Depression
Delayed or inappropriate emotional development
Desperately seeks affection
Avoidance of certain situations, such as refusing to go to school or home or taking transportation to go to school or home
A decrease in school performance or loss of interest in school
Loss of previously acquired developmental skills
Signs of Neglect
Poor hygiene
Eating a lot in one sitting or hiding food for later
Poor record of school attendance
Poor growth or weight gain
Lack of clothing or supplies to meet physical needs
Taking food or money without permission
Emotional swings that are inappropriate or out of context to the situation
Lack of appropriate attention for medical, dental or psychological problems or lack of necessary follow-up care
Indifference
Physical Abuse Signs
Unexplained injuries, such as bruises, fractures or burns
Injuries that do not match the given explanation
Untreated medical or dental problems
Sexual Abuse Signs
Blood in the child's underwear
Trouble walking or sitting or complaints of genital pain
Sexual behaviour or knowledge that's inappropriate for the child's age
Pregnancy or a sexually transmitted infection
Statements that he or she was sexually abused
Abuse of other children sexually
Reviewing your interactions with your child 
As a parent or caregiver here are some questions to ask yourself to encourage awareness of your interactions with your child.
Do I blame the child for problems that occur or deny that problems exist at home or school?
Do I show little concern for the child?
Am I unable to recognize emotional or physical distress in the child?
Am I constantly blaming or belittling my child and describing him or her with negative terms like "good for nothing"?
Am I using harsh physical discipline or ask teachers to do so?
Am I demanding an inappropriate level of academic or physical performance?
Am I expecting my child to provide me with attention and care or become jealous of other family members getting attention from him or her?
Am I overtly limiting my child from interacting with others?
Another question to ask is whether the caregiver or parent has a tendency to provide contradicting explanations or no explanation at all for their child's injuries.
Support
The warning signs mentioned above are provide to help identify the different characteristics of abuse that may occur in children. The child may not be empowered enough to speak out for themselves due to fear or other emotions. It is encouraged that we become advocates for the child. This would entail seeking help and support for the child by reporting it to the specific protective agencies as well as seeking medical and/or psychological services.
Reference:
Mayo Foundation for Medical Education and Research (2015). Diseases and Conditions – Child Abuse.
Written by Lesli-Ann Belnavis, Registered Art Therapist