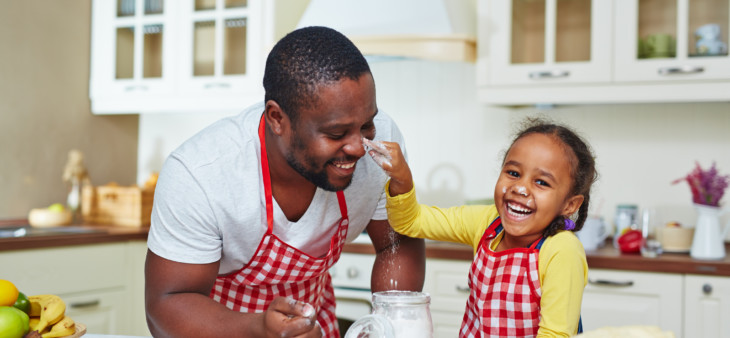 Parents Month has been observed under the theme 'Be The Influence', and one great way to influence your children to eat right is to get them involved in the kitchen. When children are involved in meal preparation, it encourages them to eat what they have helped to prepare.
In addition, bear in mind that parents need to lead by example; in an effort to encourage children to eat right, parents must do so too. Therefore, meals that are prepared together should be had together. Here are 6 tips on how to get your kids involved in the kitchen:
Ensure that you are never in a rush when cooking with children. Always be patient; you do not want them to associate meal preparation with the feeling of anxiety.
Demonstrate kitchen safety measures and good hygiene practices.
Children ages 3-5 can help with mashing, mixing, stirring, blending, cracking eggs, using a butter knife to cut soft foods and washing ingredients.Children in this age group can also help with measuring and pouring. Measuring and pouring is a great time to incorporate practicing to count.
Children ages 6-12 can help with cooking simple starches such as rice and pasta, cutting and peeling vegetables, separating eggs; chopping, dicing and mincing of ingredients and preparing easy breakfast items such as scrambles eggs, cereal with milk and oats porridge.
Have children help with age appropriate cleanup. Children ages 3-5 can help by wiping up spills on the counter; while children ages 6-12 can help with the washing of dishes and utensils and sweeping.
Let them know that they have done a good job, and thank them for helping you in the kitchen.
Though cooking with your children can get quite messy, it is important to focus on the bonding experience as well as the fact that you are positively impacting their health throughout their life cycle.
Written by Chenell Griffiths, Nutrition Advisor